About Bamboo Nursery – a Premier Supplier 4 You
At Bamboo-Nursery, we provide our customers high quality plants in a very unique way from our 2 nurseries in the Central and the West Coast of Florida. Our Certificate of Nursery Registration (#48006971) from the Florida Department of Agriculture ensures your plants are healthy and free from pests and unwanted diseases.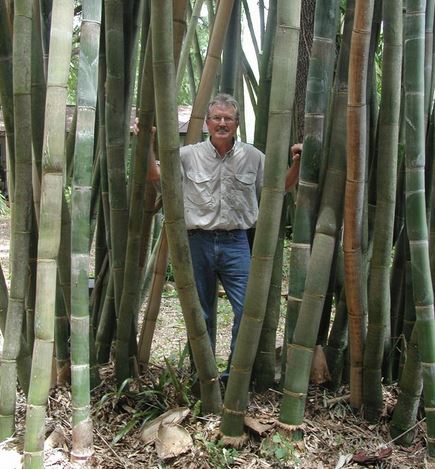 We have a forest of bamboo trees and are able to provide our clients with established trees cut to your desired heights with mature root systems ready to spread in clumps. If you need a 1st floor area screened, no problem. A 5 floor screen you need? No problem either. We will cut to the desired height and let nature take it from there.
We specialize in growing and landscaping with one the tallest and fastest growing plants on the planet = Bambusa Oldhamii  or commonly referred to as "Giant Timber Bamboo".  It thrives in Florida and is ideally suited for tall hedges and privacy screens.  Our nurseries located in Pinellas and Hardee counties have been serving the Tampa Bay Area for several years with plants ready for immediate pick-up or delivery.
WHAT MAKES BAMBOO NURSERY DIFFERENT?
We take great care to make sure we deliver what our clients need. We also care about the environment. Click here to visit our sister website which explains the incredible environmental benefits of sugarcane.
SHIPPING

Bamboo Nursery provides free delivery for qualifying orders within the Tampa Bay Area.  Or you can schedule a time for pick-up at our Wauchula or St Pete Beach locations.

PRODUCT DESCRIPTION

Bambusa Oldhamii = "Giant Timber Bamboo"

Max Height:  Over 55 ft

Max Diameter:  4 to 5 inches

Rhizome System:  Clumping – IT DOES NOT SPREAD

Minimum Temp:  18 deg F (-2 C) This plant was unaffected by the 2008 coldest winter on record in Florida.

Light Exposure:  Full Sun and is Salt Tolerant

Ideal for hedges and privacy screens

PRICING VARIES DEPENDING ON YOUR NEEDS
  
DELIVERY/PICK UP:

   Bamboo Nursery serves Pinellas, Hillsborough, Sarasota, Manatee, Highlands, Hardee, Hernando and Pasco Counties.